If every weekend were like this one was, we'd spend them all riding.
I live in Georgia, just north of Atlanta. Summers here are hot. Not tropical hot or desert hot, but still hot! Add to our usual 90+ temps our usual 80%+ humidity, and it is even hotter. Friday, however, we got a taste of what those of you who live up north or in the northwest get to enjoy. A cold front made it all the way down here, something that never happens in July! We have had daytime temps in the low 80's with low humidity. Bliss! When I saw the forecast for the weekend earlier last week, I told my husband that we were going riding one weekend day, and nothing was going to stop us. We decided on Sunday, and what a fantastic day it was! The high for the day was only 80, which means that most of the day was in the 70's. We took our bikes over to the Silver Comet Trail, stopping for breakfast first. We put in at the Tara Drummond memorial park in Dallas because it has good parking and bathroom facilities. We rode west 10 miles to the Brushy Mt. tunnel, which is a rather long tunnel through the top of Brushy Mountain (hence the name). Even though it is a rails to trails and there are no steep grades, the section we rode goes up Brushy Mt and so has a long continuous uphill grade for several miles. There were a lot of people out there riding, but the area we rode in is less populated and so has less traffic on the trail. Everyone was so friendly and smiling! I think the good weather just put everyone in a good mood! We stopped at the other side of the tunnel for a break and had a nice chat with a young couple and their 3 year old boy. Our ride back had more downhill grades than uphill ones, so that was nice too. We rode 20.23 miles in 1 hour 47 min (that's riding time, not total time). We even upped our mph average by a mile, to 11.2. Since we haven't done a long ride since Memorial Day, I was really pleased with how we did. Best of all, my husband was eager to go and even planned on riding 20 miles. He no longer acts like he is grudgingly riding with me, but actually enjoying doing it!
Current Mood:

happy
Things I have learnt already:

1. The saying
it's just like riding a bike
is not necessarily true. I've lost my mojo. I was a bit nervous and at the end of the ride I had to have my hands surgically removed from the hand grips.
2. Just because you're sitting doesn't mean you won't need a sport bra.
3. So called
Flat Rock Road
in my town (Melbourne, Australia) isn't flat!
4. I have no idea how to use bicycle gears and need help FAST!
On the upside - I stopped at my first intersection and there was a neat shifting spanner on the ground. I felt it had been left there for me by the bicycle gods for service and repairs so I put it in my basket and took it home!
I also got a basket for my beautiful girl. I love it! I think what I love about the Townie is that, although I can get some decent speed going, no one expects you to fly by them in a blur dressed from head to toe in spandex (or should I say shoulders to mid-thigh). It's made for enjoying the scenery with my head held high. When I pass someone, I give a little jingle on my bell with a cheerful "On your left!" and I get a smile in return. If you don't have a bell, you must pick up an Electra model. They just sound happy.
Bbbrrrriiiinnnngggg!

I don't think this picture does justice to just how cool the white accessories look on the titanium colored frame.
I love reading all the posts on my FL and here about the great rides happening this weekend. I went riding with DH and our dear friends on a 22 mile ride on a regional bike trail that connects two regional parks. The path is beautifully maintained and even has two tunnels and a bridge over busy roads. I think in the 5.5 mile ride that connects the parks, we only had to cross 6-7 streets. I think that's very cool. The park itself has 10 miles of trails but we only did half. Good thing because 22 miles was definitely my limit on my second time out this year with a good month between rides. My legs were screaming in delight and pain last night.
Tomorrow my husband and I are going on a 20 mile ride sponsored by GRITS, the Georgia Rails to Trails Society. Our ride doesn't start at 5:00 a.m., though. Good thing, cause they'd be leaving without me!


Her name is Rosie. I know this, because she told me so.

Now, mind you, I haven't been on a bicycle in twenty-eight years. I am old. I am fat. I wobbled like a six year old not quite ready to lose the training wheels those first five minutes or so. Straight lines are still a bit of a challenge. But oh my God, am I having fun! Allen bought a bicycle too, albeit a Trek, and he's been joining me on my late afternoon rides. I'd make mention that Mr. Skinny is lagging behind as often as not, but I have too much class for that. Uh-huh.

I have discovered I have pubic bones. They have announced themselves. Loudly. So have muscles I didn't know I possessed going up either side of my buttcrack. They say hello every time I shift in my chair. And I respond, which makes Allen laugh, because he is clearly a masochist fishing for some form of retaliation, which will unquestionably be dealt when those butt muscles finally shut up and leave me alone again to engage in my acts of violence in peace. In the meantime, I'm laughing too, because Mr. Comedy practically has to lay his bike down on its side to swing his leg up over the crossbar. Triathletes we ain't.

I bought a basket for Rosie, because that is the law. I chose the wicker one with the gypsy liner. The guy at the bike store neglected to mention that this particular basket is only compatible with the Art series. Well, hell. It's OK, though. The hardware has been deposited in a bin in the garagemahal, with about forty pounds worth of other bolts, screws, and fasteners which we'll never pick up again. I simply wove the leather straps through the wicker, and then wrapped them around my handlebars. End of problem, no screws required. The liner, however, IS giving me a bit of a headache. Turns out it's the only completely colorfast scrap of fabric in my house. I put that sonofabitch in the wash seven separate times last night, in scalding hot water, with enough bleach to disinfect Pittsburgh, and those bright red flowers are still bright red. I'm aiming for pink, so as not to clash with the bike. Stay tuned. True to my Berliner roots, I'm a stubborn one.

So, anyhow, Snowiee, you were right. I love this bicycle. Love, love, love, love, love it. I love my sore muscles. I love the wind in my face. I love riding the sharpest damned bike on the road. LOVE.

Thank you.
After a full year of lusting and yearning and wishing and scrimping and saving and praying to every deity I could think of, I tried something new... financing... and I picked up my brand new hot pink 7-D this past Wednesday afternoon!
If so, please sign the Google Maps 'Bike There' Feature Request
Find it
here
And pass it along! :)
In the mood to sign a petition?
We had daylight until about 7 pm. The temps were still a bit cool (for us in SoCal) but the moonlight last night was spectacular!!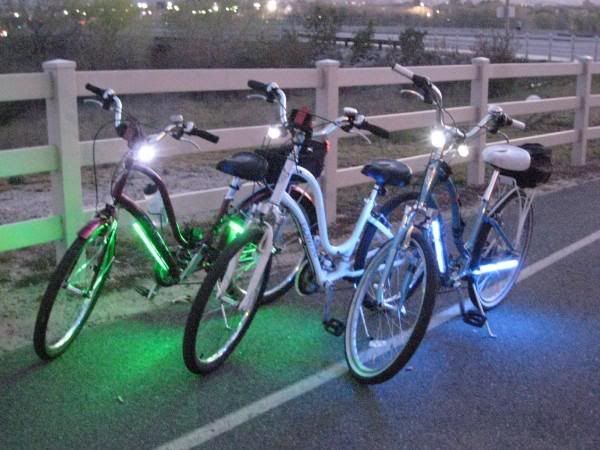 I get to go out again tomorrow night and Saturday.
It's the only thing I like about DST...more light in the evening.
Is the snow melting yet? (For those of you in the cold climate)
Last night was our official "Townie Season" opener ride.
Saturday I took an old friend of mine riding. We met back in Jr High and have recently reconnected. I mentioned to her about my bike obession and said she wanted to get a new bike.
HA! That's all I needed to hear.
This is the second weekend in a row she's come out to ride with me. She likes it a lot and she likes the Townie. We have 3, so my girls are always very generous in letting other ride their bikes.
She thinks since she will be 50 in April, it's going to be the perfect gift! She's leaning to the 21D in green.
Congratulations to
sillywinkie
!
She just got her new Townie (aka Gigi) this last week.
So naturally we wanted to accompany her on her Maiden Voyage!
(
a few pictures
Collapse
)
We were gifted with a "Spring time" weekend! What better to do than go out for a ride :)